Tolix Stools
This replica of Xavier Pauchard's 1934 design lives up to the demands of modern interiors, combining flair and practicality.
Standing at 75cm, the Replica Tolix Stool is fashioned from sturdy and durable powder-coated steel and also incorporates a footrest to ensure comfort for extended sitting, as does the wide seat.
Our replica Tolix stool is available in a range of bright, fun colours as well as more basic, minimalist shades. These include white, red, yellow, orange, green, blue, pink, and steel. Choose multiples of the same shade, or combine a number of vibrant colours to achieve a unique visual effect in any environment - be it the home, office or outdoors.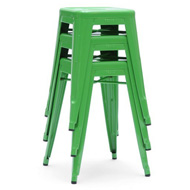 Tolix Stools