Planters
Don't you want to add more color, fragrance and style to your garden, deck, patio or balcony? If so patio planter is perfect for you. In spite of being very functional they also perform decorative function and help you to enhance the beauty of your patio, balcony or garden.
Patio planters are available in hundreds of styles, designs and colors. They have many advantages:
1. it is a perfect way to decorate or to refresh your garden or patio or balcony;
2. with garden patio planters you decrease the possibility of pest damage;
3. you can cultivate plants that can't grow on your yard soil;
... …
Patio planters are also available in a great variety of materials, such as wood, metal, fiberglass, plastic or ceramic. So you can choose any you like more. We Comfort outfoor furniture mainly offer patio wicker planters, this wicker planter will be a great addition to any outdoor patio furniture area.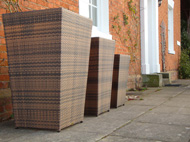 Planters