Dining Tables
Dining table is perfect for outdoor seating at your restaurant or on your patio. This outdoor dining table is sleekly designed, rust-proof and light weight. The aluminum dining table is available in round and square and rectangular shape, common size is 24", 30", 36" for your reference.
There are mainly two finishes for the table tops, one is with aluminum rimmed edge, it's suitable for indoor using. The other finish is stainless steel rolled edge, it's water-proof and better for outdoor furniture using, you can choose it as coffee table, café table. It also has bar height tables for your bars.
Either you wish to invite guests and have fun, or relax after working – it's your choice. Outdoor coffee tables just will help you to achieve maximum comfort and will make your life more diverse.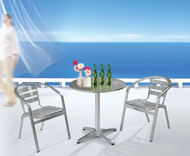 Dining Tables